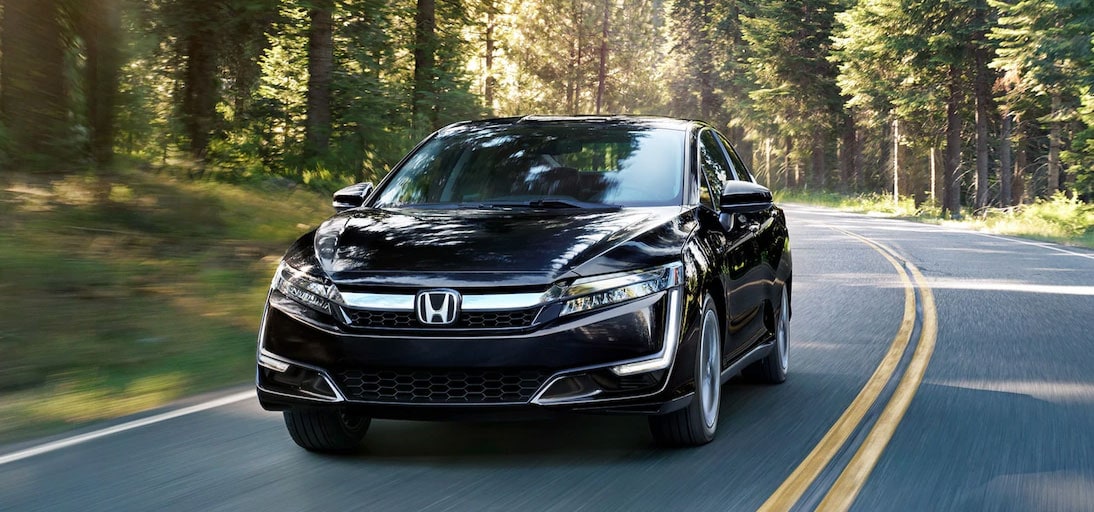 With the all-new 2020 Honda Clarity Plug-In Hybrid, you can truly have it all. It enjoys both the efficiency of an electric motor and the flexibility of a gas motor, so you can rely on a gas boost when you need it. For you daily commute, you can rely on battery power alone, or tap into the gas-powered engine to keep going on longer trips. 
The Clarity is loaded with safety and driver assistance features, plus intuitive technology that makes it easy for you to concentrate on your drive. In 2020, Honda added an Acoustic Vehicle Alert System (AVAS) to the Clarity, which alerts pedestrians and cyclists of the vehicle's approach when moving on electric-only power.
When you consider the lower operating costs of a hybrid, and the tax incentives when purchasing one, the Honda Clarity is undoubtedly worth a peek. Keep reading for a comprehensive guide to this one-of-a-kind hybrid vehicle.
Exterior
You can immediately tell that the Clarity is a hybrid vehicle. The Clarity's front grille is small, with most of the front of the vehicle dominated by a solid horizontal bar that features the Honda emblem. The L-shaped LED daytime running lights cut into the lower bumper slightly, which complements the PHEV aesthetic of the rear wheel arches. 
Standard on the vehicle are LED taillights and a remote power trunk lid. Eighteen-inch alloy wheels rest within the wheel arches, and every trim level gets a body-colored deck spoiler along with a shark-fin antenna. 
Interior
Honda uses plenty of high-end materials throughout the Clarity's cabin, which is spacious for a PHEV. The cloth trim of the base model looks and feels good, and there are several tech features, including a comprehensive infotainment center that make the Plug-in Hybrid feel as modern as possible. 
Performance
The Clarity Plug-In Hybrid isn't geared towards blistering performance, but it holds its own on the road-even with optimal fuel efficiency. It has a combined output of 212 horsepower and a 0-60 mph sprint time of approximately 7.7. seconds, assuming you're using both the engine and the electric motor. When using only the electric motor, it takes around 12 seconds to get up to speed. As the Clarity is marketed towards those with a focus on efficient town living, only front-wheel drive is offered.
Engine and Transmission
The Clarity Plug-In Hybrid gets a combination powertrain with a 1.5-liter Atkinson-cycle four-cylinder combustion engine with 103 horsepower and 99 pound-feet of torque and an electric motor with 181 horsepower and 232 pound-feet of torque. 
Working together, these produce a combined output of 212 horsepower. Power is regulated by a CVT-which is typical for a hybrid-which simulates gear shifts. The electric motor's high torque output gives the vehicle surprising pep from pull-off, but the speed tapers off quickly, making the Clarity most suited for town driving. 
Fuel Efficiency
The Clarity only has a seven-gallon fuel tank, but boats impressive gas-only mileage ratings of 44/40/42 mpg. It has an almost 300-mile range with a dead battery. The 17 kWh isn't fooling around either, with an electric-only range of 47 miles. When combining both the engine and electric motor, the car has an overall range of approximately 340 miles. Recharging the Clarity's battery takes 12 hours with a standard outlet, while a 240-volt (Level 2) outlet can charge it in 2.5 hours.
Safety Ratings and Features
The Clarity Plug-In Hybrid has yet to be tested by the National Highway Traffic Safety Administration (NHTSA) or the Insurance Institute for Highway Safety (IIHS). However, each model comes with several Honda Sensing safety functions. 
Standard safety features include ABS, EBD, stability and traction control, and seven airbags. Honda Sensing adds lane keep assist, forward collision avoidance, lane departure warning, and road departure mitigation.
Trim Levels
The Clarity is available in two models: the base Plug-In Hybrid model and the Touring model. 
Both trim levels have a standard 1.5-liter four-cylinder gas engine and gear shifts simulated by a CVT that directs power outputs to the front wheels only. 
Standard on both models are 18" alloy wheels and full LED exterior lighting (head-, tail-, and daytime running lights). Also included are dual-zone automatic climate control, cruise control, keyless entry, two 12-volt power outlets, and heated front seats. 
The Clarity's infotainment system is Apple CarPlay and Android Auto compatible with SiriusXM satellite radio and an included eight-speaker sound system. The Honda Sensing safety features, as mentioned above, are also standard.
The base trim gets cloth upholstery, but the Touring model receives perforated leather. The Touring trim level also gets an eight-way power driver's seat with memory, navigation with voice recognition, and remote climate preconditioning. 
Additional Owner Benefits
Owning a Clarity comes with many benefits, including a possible $7,500 tax credit through federal rebate programs (based on eligibility). Depending on your state, you may also receive purchase and lease incentives, free parking, and charger rebates. As a Clarity owner, you may also be eligible for the High Occupancy Vehicle (HOV) sticker through your states DMV. In certain states, once you apply for and receive the sticker, you're entitled to use designated HOV lanes, even if you're alone in the car. 
You'll also enjoy two ways to charge. Level 2 charging is the least expensive and most convenient way to charge your vehicle and gives you the ability to charge your battery in just 2.5 hours at home, at the office, or anywhere there's a 240-volt charger. Level 1 charging is also easy using a compatible 120-volt wall power outlet. Just use the charging cable that comes with your vehicle, and your Clarity will be fully charged in 12 hours.
Want to Take a 2020 Honda Clarity Plug-In Hybrid for a Spin?
If you're ready for a test drive, visit
Burleson Honda
for an outstanding deal on a new 2020 Honda Clarity Plug-In Hybrid. At Burleson, you'll find competitive prices of
New inventory
 and
Used inventory
of 2020 vehicles, and a knowledgeable team of sales professionals. 
Contact us
online or by phone at 877-394-6458 to request more information. Or, simply stop by our showroom to talk with one of our team members. We promise you'll feel confident driving away from our dealership in your new car!
Make an Inquiry