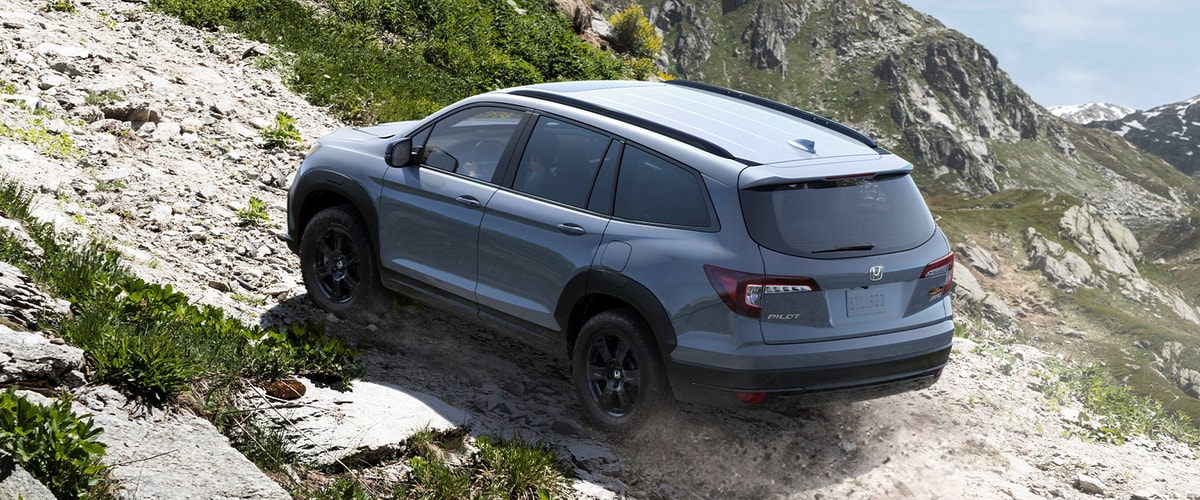 The 2022 Honda Pilot is a versatile SUV that offers both luxury and performance. If you want to learn more about the new 2022 Honda Pilot check out our in depth article here. This year, Honda outdid itself by introducing the all-new 2022 Honda Pilot TrailSport trim level among its other excellent trim options. This new trim is perfect for taking friends and family on a camping trip! If you're looking for a new SUV, keep reading to learn all about the Honda Pilot's new trim!
Brief Review of What's New
Honda decided to drop the two base trims (LX and EX), this year and added the Sport as the standard trim. Some of the new features now include LED headlights, an 8.0-inch touchscreen, and a Sonic Gray Pearl paint color. The Honda Pilot has amazing standout features that will impress you time and time again.
Pilot TrailSport vs. Other Trims
So, how does the TrailSport differ from the other trims? First off, the TrailSport is meant for light off-roading, with rugged tires, AWD, and a higher suspension. Honda focused on high-performance so that you can get dirty without sacrificing any of the comforts you expect from the Pilot. The TrailSport trim also features black leather seats, with contrasting orange stitching, as well as all-weather floor mats. Additionally, the TrailSport is marked with an orange logo both on the exterior of the trim and in the leather seats.
Pilot TrailSport Features
The Pilot TrailSport comes in a variety of different shades, including the standard Crystal Black Pearl, the Lunar Silver Metallic, and the premium options of Platinum White Pearl or Sonic Gray Pearl.
The standard for the interior is beautiful black leather seats, as well as a leather steering wheel. The interior also features a sun/moonroof, heated front seats, seat memory, and standard bucket seats. As with each Pilot, the interior is quite spacious for both cargo hauling and seating. The TrailSport is meant for light off-roading while keeping it comfortable for the whole family. Honda provided extra suspension on this trim, 18-inch wheels, all-wheel drive, and prominent black plastic inlays around the wheel wells.
Pilot TrailSport: Detailed Breakdown
The Pilot is known for its durability, reliability, and spacious cab. The model rates "Excellent" across most platforms, and for a good reason. Below you'll find a breakdown of the new TrailSport trim.
Performance Specs
The engine and transmission are high performance with a V6 engine, 262 lb-ft torque at 4700 rpm, and a 9-speed automatic transmission, and the maximum towing capacity of this trim is 5000 lbs and weighs 4,251 lbs. It includes AWD and 280 hp at 6000 rpm. The front suspension is a strut, while the rear is a multi-link. The turning diameter is 37.6 ft with a rack-pinion steering type. The TrailSport wheels and tires differ from the other trims with 18"x8" black aluminum wheels and P245/60HR18 tires.
Fuel and MPG
For the eco-conscious driver, you'll be happy to know that the CO2 emissions are at low 15,000 miles per year, clocking in at 8.4 tons, which is impressive for it's class. It has a fuel economy of a combined city and highway ranking of 21 MPG, and the fuel tank capacity is 19.5 gallons, meaning on average you'll get 409.5 miles with a full tank!
Dimensions and Measurement
An item that Honda prides itself in is the combined comfort and capabilities of the Pilot. The TrailSport trim is no different. It comfortably seats eight people with front and second seat legroom near 40". The third row has legroom of nearly 32", which is far more than the average third-row seats.
Features and Options
When it comes to comfort, the TrailSport Pilot has it all. It includes items such as multi-zone AC, climate control, and heated seats. Additionally, it has a keyless start, keyless entry, remote trunk release, and a universal garage door opener. The TrailSport also includes adaptive cruise control, a navigation system, steering wheel audio controls, and an excellent infotainment system with smart device integration.
Safety
Safety is one of the most crucial parts of any vehicle, especially when you've got your family in it. Thankfully, Honda did not skimp on the safety features so that you can feel safe driving around with your family, whether that is a trip to Grandma's or an outback off-roading adventure with the kids.
The safety features include a backup camera, traffic alerts, blind-spot monitor, lane assist, ABS, brake assist, and stability and traction control.
Warranty
Of course, you'll want to know the warranty features of a newly purchased vehicle. The basic and roadside assistance warranty includes three years or 36,000 miles. The corrosion warranty is 5 years and unlimited miles, while the drivetrain warranty is five years at 60,000 miles.
Pilot TrailSport vs. Passport TrailSport
If you have researched the Honda models, you've undoubtedly read about the Passport model.
The Passport model is based on the Pilot, with the main difference being the passenger space. The Pilot has three rows of seats, while the Passport has two. Both still feature a high capacity for cargo hauling when the seats are folded down. As a matter of fact, the Pilot is rated with some of the highest cargo-hauling ability. Both are excellent vehicles that retain their value; however, if you are looking for a little extra space, the Pilot is a good option.
The All-New 2022 Honda Pilot TrailSport at Burleson Honda
The all-new 2022 Honda Pilot TrailSport is an excellent vehicle for those who wish to do some light off-roading while having all the comforts of a family-oriented SUV. Honda has years of experience and is known for its reliability and performance. Contact us or come in person and we will help you find the perfect Honda for you. If you're interested in more of Honda's top models, be sure to check out our research hub!