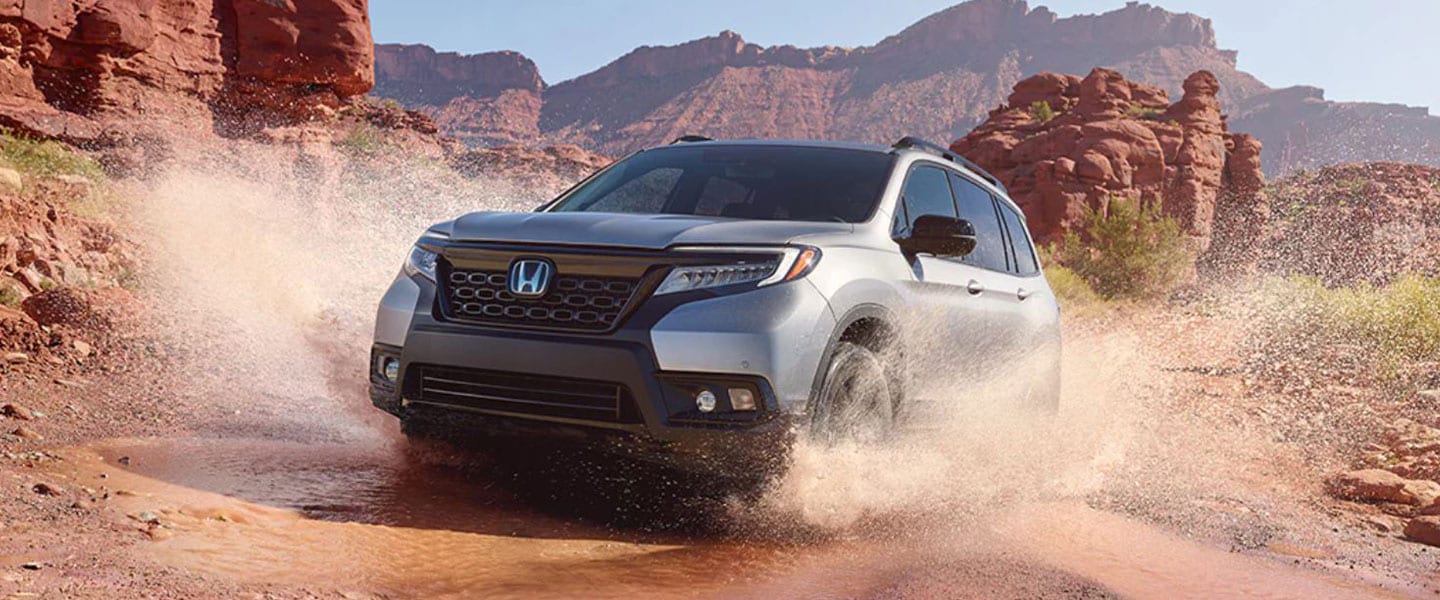 With a rugged, athletic style and the storage space built to match,
the new 2021 Honda Passport
at
Burleson Honda
is a great choice for adventurers who can't wait to get on the road. Are you wondering about Honda Passport specs? If so, you've come to the right place. Whether you're heading on a backpacking excursion, or you need space for your kids' sports equipment, this great new vehicle has just what you need! Keep on reading for some specs about the 2021 Honda Passport and what it can do for you. 
Storage
The hands-free tailgate and large cargo area in some trims make loading and filling your car easier than ever. You'll never have to worry about dropping things when your arms are full again! Just move your foot under the sensor beneath the bumper, and the tailgate opens right up for you. Swing your foot again, and the whole thing closes automatically!
The Honda Passport has more than 50 cubic feet of cargo space to hold practically anything you need transported. And if you fold down the back seats, you can double your storage space to more than 100 cubic feet! That's plenty of room for adventuring, moving, or that big haul of groceries.
High Performance
A strong engine and durable body make this vehicle great for traveling and towing. Need a trailer towed? With the proper hookups, this 280 horsepower, 3.5-liter V6 has got you covered. If you need a rugged all-terrain vehicle, you can upgrade your model to include an ATF cooler and all-wheel drive. This will increase your towing capacity to 5,000 lbs. and let you drive this baby into whatever backwoods road or mountain pass you desire.
This all-terrain AWD vehicle includes a torque-vectoring system that helps with traction on each individual wheel. This keeps you safer in slippery and dry conditions, giving you the peace of mind, you need when you go exploring. The Passport also has 4-wheel independent suspension and all-season tires. These can get you where you need to go, off the road or on it, rain, or shine! It's always a good idea to find a vehicle with specifications like this that can handle what life throws at you, and what you throw back at life.
And as one of the best features of the 2021 Honda Passport, this vehicle includes an Intelligent Traction Management system! The base Honda Passport has snow mode to help you stay on track, but if you upgrade to an AWD model, you also can better handle sand and mud with their added modes! 
Style
With a commanding, accented look, and a variety of LED lights for all lighting conditions, the 2021 Honda Passport is sure to turn heads and garner claims of admiration. And best of all, it offers modern looks at an affordable price, without having to wait for next year's vehicles to show up on lots.  Between the moonroof and roof rails, you can utilize the top of your car however you want. If you want to haul a couple of kayaks or a Christmas tree from back in the mountains, you're set! But if you want to open the roof and bask in the wind and the sun, you have the option as well.
Modern Interior
With five full-sized seats, you and all your friends or family can travel in comfort. The stylish interior is sure to comfort and aesthetically please anyone who takes a ride in your new vehicle. And for those cold winter months, most of the seats are heated and ventilated if you upgrade to the 2021 Passport Touring! Both front seats and both outboard rear seats can keep you toasty warm while you drive, no matter the weather outside.
Best of all, with a remote engine starter and automatic tri-zone climate control system, you can have the car warmed up and comfortable before you even climb aboard! Maybe your spouse likes the passenger side crazy cold while you like yours warm, and your kids want it somewhere in the middle. With the Honda Passport's climate control equipment, you can set it just the way you like, even if you're not in the car yet.
If you upgrade from the 2021 Honda Passport Sport Edition to the EX-L, you get several great features added to an already great vehicle! Your stylish cloth seats get upgraded to leather-trimmed, and the front seats get heating added as well. Additionally, you get the fantastic power tailgate and a blind spot information system.
Upgrading to the next trim to the 2021 Honda Passport Touring edition gives you plenty more great features! This is where you get your hands-free power tailgate system, letting you open the tailgate with a simple wave of the foot. You also get heated rear seats and additional convenience and connection features, like ambient LED lighting, courtesy door lights, and a premium audio system. Best of all, this trim has Wi-Fi hotspot capabilities!
Finally, the best Honda trim level: the new 2021 Honda Passport Elite. This baby has everything you want and more. It's stuffed with plenty of quality-of-life features that you never knew you needed, but once you try them, you'll never be able to live without. Wireless phone charging, a heated steering wheel, and rain-sensing wipers are just some of the extra features of the Elite. Extra lighting, high-tech rear-view mirrors, and ventilated seats make driving in an Elite rewarding, thrilling, and safer than ever. Bear in mind that all these great features come in addition to the extra features of the lower-level trims. You can read about all the available Honda Passport specs between the different trims. But always know that no matter which one you choose, you're always getting a great deal with a car that can take you wherever you need.
Try The New 2021 Honda Passport at Burleson Honda Today
Stylish, rugged, and powerful, the Honda Passport serves any need. You can rest assured that if you buy one of these fantastic vehicles, you'll be sitting happily wherever you go. So, if you're looking for an adventure and need the car to get you there, consider checking out the new 2021 Honda Passport at
Burleson Honda
! We have plenty of
available inventory
, and we're happy to help you find the vehicle that fits your needs. Check out our
research hub
to find out more about Honda's top models.